Hors Delai! Those two words can be like a knife to the heart of a bike racer. That is the French phrase for "you missed the time cut" and now you are out of our bike race. This post is a bit hors delai, but I am defying the Tour organizers and continuing on with the race..
The Tour de France kicked off the 100th edition on the island of
Corsica
. It is hard to believe, but this is the first time le Tour has visited this island just to the South of Nice in the Mediterranean Sea.
The first three stages of the tour took place on Corsica and each offered up plenty of thrills and twists.
Stage one
featured the Orica-GreenEdge
team bus getting stuck
under the finish line banner and a big crash that took out the majority of the top sprinters including Mark Cavendish.
Stage two
had enough hills that the sprinters were left behind, many of them finish 17 minutes behind the surprise winner, Jan Bakelants, of the RadioShack Leopard team who narrowly beat a charging field by 1 second.
Stage three
went a bit more to form, but once again the sprinters were dropped on one of the final climbs and Orica-GreenEdge made up for their embarrassing bus incident with Simon Gerrans taking the sprint victory.
The race left Corsica and blazed a trail across Provence. That is where we pick up the race route.
This Lucha Vino challenge features a classic Southern France Rose' challenging a Washington Rose' that seeks inspiration from Provence.
Chateau Barbanau
Cotes de Provence 2011 L'Instant v.
Syncline
2012 Rose
Tale of the Tape
2012 Syncline Rose
49% Mourvedre, 39% Cinsault and 12% Grenache sourced from vineyards on the Wahluke Slope, Red Mountain and Horse Heaven Hills AVAs
Purchased for $18.99 at the Vashon Island Thriftway
2011 Ch. Barbanau Cotes de Provence L'Instant
Cinsault, Syrah and Grenache estate grown grapes from the West regions of Provence.
Purchased for $20.99 at Portalis Wine Shop.
Round 1. First opening.
Syncline is first into the ring and fires off with a nose that conjures up tart melon while the palate is rounder with strawberries and a slightly sweet acidic finish.
Barbanau is flashing some more complex moves with a nose of melon, strawberry and slight mineral crispness. The palate is tart with strawberry, rhubarb and melon with a mean streak of acidity on the finish.
Round one goes to the French Luchador from Chateau Barbanau.
Round 2. One hour after opening.
These Luchadors have been warming up for an hour and are ready to hit the ring (and each other) with a vengeance.
The Syncline is building some kung fu moves of its own with a nose that shows crisp melon, light red berries and hints of smokiness. The palate is holding the line with strawberry tartness and a nice acidic finish.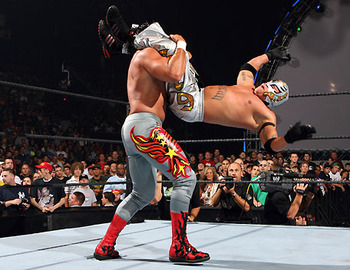 The Barbanau is fighting back with a wicked atomic drop and a nose of crisp melon, light red berries and slight smokiness. The palate is still showing strawberry tartness and a nice acidic finish.
This round was closer, but Barbanau takes the points once again.
Round 3. One day after opening.
Syncline is searching for a solution to the dominating Luchador of Provence. The nose is showing medium red berries. The palate has notes of tart medium red berries that are slightly sweeter than before including some notes of chocolate leading to a lightly acidic finish.
Barbanau is holding steady with a crisp nose dominated by medium red berries. The palate is still refreshingly tart with medium red berries some sweet melon and some slight notes of chocolate finishing off with a touch of sweet acidity.
Another close call, but the rose' from Provence squeaks by in the final round to take the match 3-0.
Wrap up and overall observations.
The score for this match looks lopsided. But, in reality the bout was close and both Luchadors flashed some unique style.
The Syncline rose' showed some nice character and is a refreshing summer time companion.
The Chateau Barbanau showed a bit more complexity and acidity. This rose' has the kick to stand up to a variety of dishes and would be a great compliment to all kinds of meals.