The pro racers have scattered to a variety of week long stage races in the past two weeks with many of them heading South to Spain to begin preparing for the
Vuelta Espana
.
There were two short stage races in the North of Spain around the Ribera del Duero region. The
Vuelta a Burgos
is the higher rated of the two races and includes a stage that begins in
Ribera del Duero
This week's Lucha Vino challenge features a Washington State
Tempranillo
battling with a Tinto from the
Ribera del Duero DOC
.
2009
Bartholomew
Tempranillo v. 2009 Tinto
Pesquera
Crianza
Tale of the Tape
2009 Bartholomew Tempranillo
100% Tempranillo from the Upland Vineyard in the
Snipes Mountain AVA
Purchased at the winery for $24
2009 Tinto Pesquera Crianza
100% Tempranillo
Aged for 18 months in new American oak barrels and then 6 months in bottle.
Purchased at Total Wines and More for $24.29
Round 1. First opening
It appears that Bartholomew has sent in their heavyweight champion Luchador. The nose is showing dark dusty black cherries and light funky spices. The palate is dark and spicy with notes of clove, black cherry and cracked pepper that builds to a slightly dry finish with cocoa powder and earthy spices.
Pesquera is combating brawn with agility. The nose features medium dark cherries and funky earth undertones. The palate is tart with bing cherry, dry cedar humidor and spicy tobacco leaf trailing off with a finish repeating the tobacco leaf notes along with some white pepper spice.
These luchadors might both be built with Tempranillo, but they are definitely not from the same neighborhood!
Bartholomew is intimidating and aggressive taking the first round on points.
Round 2. One hour after opening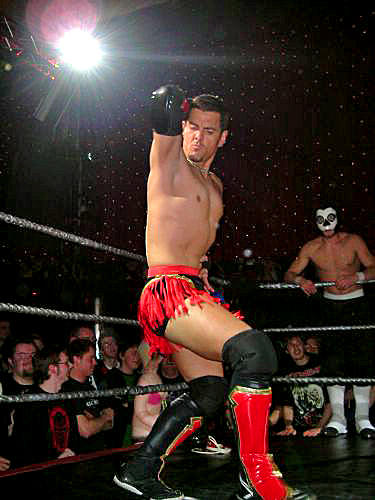 The Bartholomew brawler continues to build power with a nose of black cherry, licorice and tart spices. The palate is equally bold with black cherry, clove, cracked pepper and dry cocoa powder notes leading into a finish that also features some white pepper spices.
The Pesquera brings the funk, mixing it up with some unusual wrestling moves that look like they might have been stolen from a
70's discoteque
. The nose continues to feature funky earth, cherries and slightly smokey sandalwood. The palate is dry with tart cedar, tobacco leaf spice and pie cherry. The finish is dry with notes of spicy tobacco leaf.
The disco moves were entertaining, but not enough to distract the Bartholomew brawler from the task at hand. Wrapping the Pesquera up in a gnarly figure four leg lock the Bartholomew luchador wins round two.
Round 3. One day after opening
Bartholomew is going for a clean sweep, leading the match 2-0 heading into the final round. Wasting no time, the luchador from Washington flashes some power to let everybody know it is playing for keeps. The nose features dusty black cherry, licorice and light white pepper. The palate also includes notes of black cherry, clove, cinnamon and tart earthy pepper spices with subtle notes of cocoa lurking on the finish along with some spicy cracked pepper.
The Pesquera Luchador from Ribera del Duero isn't going down without a fight. You have to admire its tenacity. The nose shows some funky sandalwood, smoke, cherries and earthy herbal white pepper. The palate is mellow with bing cherry, and cedar tinged tonacco leaf spices that continue on to a dry finish.
Bartholomew laughs once, then a second time, before flipping the Pesquera Ribera del Duero out of the ring and into the land of nod. Lights out. Bartholomew takes the final round by TKO.
Wrap up and overall observations.
Both of these Tempranillos showed consistency and stamina throughout the match. Bartholomew took all the points, but the Pesquera showed plenty of big game style. I would recommend both of these wines.
Bartholomew is definitely darker and more robust. You can drink this wine on its own, or with a variety of robust meals. There won't be much that can overpower this one!
The Pesquera was more subtle, with a medium body and more earthy notes and spices. This Spanish wine seems more suited to enjoying with a meal, rather than on its own.