The 2015 edition of the
Tour de France
wrapped up two weeks ago. This year's edition of the race was packed with plenty of action, especially in the final week of the race when le Tour spent 4 days scaling multiple mountains in the French Alps. The race came to conclusion on the classic climb of
l Alpe d'Huez
. Whenever the tour visits this famous climb it is like you went to a party and a bike race broke out. The hill is covered from top to bottom with
manic fans
that, literally, arrive weeks ahead of time to stake out their partying and viewing spots.
The final two stages through the Alps (finally) saw Nairo Quintana use his climbing skills to attack the race leader, Chris Froome. The aggressive riding made for great racing action, unfortunately it was too little, too late. Froome was able to manage his time losses and still win the overall title by a comfortable margin of one minute and thirty seconds.
Leading up to the final week the tour passed through the
Rhone Valley
. I imagine the pro racers and their support crews all enjoyed some Rhone Valley Syrah on their way to the Alps.
This week's Lucha Vino challenge features a Norhtern Rhone style Syrah from McCrea Cellars taking on a French Syrah from
le Hermitage
.
2006
McCrea Cellars
Cuvee Orleans v. 2006
Phillippe & Vincent Jaboulet
Nouvelere Crozes-Hermitage
Tale of the Tape
2006 McCrea Cuvee' Orleans
94% Syrah and 6% Viogneer from the Ciel du Cheval and Boushey Grande Cote Vineyards on Red Mountain and the Yakima Valley
Co-Fermented and then aged in 20% new French Oak Barrels.
Purchased from
WTSO
for $20.00
2006 Philippe & Vincent Jaboulet Crozes-Hermitage
100% Estate grown Syrah
Purchased from
Garagiste
for $14.00
Round 1. First opening
McCrea bops into the ring to a crazy funky beat. The nose is showing funky floral notes along with slightly smoky white pepper and dark fruit. The palate is also showing floral notes along with some brambles, dark fruit and smoky cracked pepper that is followed by a nice dry finish.
The French challenger from Crozes-Hermitage is trying to match the funk with a nose that is dark and funky, reminiscent of black fruit and forest floor. The palate gives a one-two punch of dark fruit, dry cedar and smoke that winds down with a slightly lighter and drier finish.
McCrea earns the opening round points based on a stylish entrance into the ring.
Round 2. One hour after opening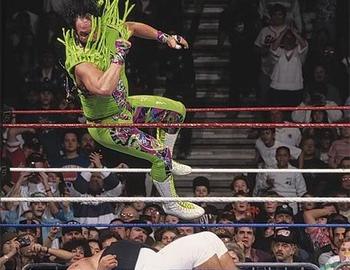 McCrea is backing up the style with substance taking down the challenger with a brutal atomic elbow drop. The nose is demonstrating dark cherry, light smoke and floral white pepper. The palate also features dark fruit, smoke and pepper along with a dry sweet cracked pepper finish.
Philippe & Jaboulet may have two names, but seems to lack the strength to back it up with a double-dose of power. The nose is showing some interesting funky mushroom, forest floor and dark fruit character. The palate has notes of dry dark fruit, cedar tinged light pepper and a slightly mellower finish.
Once again McCrea takes the round. This time gaining an advantage based on power and stamina.
Round 3. One day after opening
McCrea continues to bring the power and the pain! The nose shows cedar brambles and floral blueberry notes. The palate is darker with black fruit, plum, cracked pepper and a light smoke driven dry peppery finish.
Philippe & Jaboulet is going for broke with an all-out attack. The nose has notes of dark fruit, mushroom and funky forest floor with a slightly floral finish. The palate goes full steam ahead with dry dark cherry and cedar tannin fueled notes that finish off with notes of dry cedar.
The French challenger fought back hard in round 3, but it wasn't enough to overcome McCrea Cellar's domination. Round 3 goes to the Cuvee' Orleans and McCrea Cellars takes the match 3-0.
Wrap up and Overall Observations
Both of these wines are drinking well. If you have either of these in your cellar you will be pleased if you open a bottle.