The
Vuelta Espana
packed plenty of action into the past three weeks. There wasn't a whole lot of drama or suspense once
Quintana crashed his TT bike
and Contador took the lead, but there was still plenty of exciting racing.
The Spaniards really seemed to be motivated for a good showing in their home race. Alejandro Valverde, Joaquin Rodriguez and Alberto Contador were consistently at the front of the pack when the roads turned steep.
The Vuelta Espana is known for its strenuous mountain stages and mountain top finishes. This edition stayed true to form and included some mountainess terain in Northern Spain passing by the
Rioja
wine region. This week's matchup pays tribute to the mountains of Northern Spain and the racers that ride their bikes up these mountains like they have wings (or
tiny hidden electric motors on their bikes
).
This matchup features a Washington Tinto taking on a traditional red blend from Rioja.
2009
Pomum
Tinto v. 2009
Bodegas las Cepas
Cinco Denarios
Tale of the Tape
2009 Pomum Tinto
90% Tempranillo and 10% Garnacha
Aged for 20 months in twice used French Oak Barrels
Purchased from Full Pull Wines for $21.91
2009 Bodegas las Cepas Cinco Denarios
60% Tempranillo, 20% Grenache and 20% Graciano
Aged for 6 months in French Oak Barrels
Purchased from Garagiste for $11.96
Round 1. First Opening
The Las Cepas Luchador seems a bit tentative to start off the match. The nose is showing dried cherries, earthy cedar spices and hints of leather. The palate is doubling down on the dried cherry character and throwing in some white pepper and violets for good measure. The finish is dry and slightly spicy.
The Pomum Tinto is showing some power and aggression. The nose features dark cherries, currants and notes of light smokiness. The palate is drier with tart cherries and dried Asian spice notes that trail off into a dry tannin fueled finish.
Pomum takes the first round with an unmatched display of power.
Round 2. One hour after opening
Las Cepas is battling back with a hint of bad attitude and a nose of dark currants, menthol and dry Asian spices along with a smoky haze lurking in the background. The palate is darker with notes of dried cherries and cracked pepper with a tart spicy cherry bark finish.
Pomum is getting pumped up with a nose of dark cherry, sandalwood, menthol spices and dried flowers. The palate is also bulked up with dark dried cherries and tart dry Asian spices followed by a dry tannin and menthol spice driven finish.
The Las Cepas Luchador from Rioja stepped up its game, but it wasn't enough to overcome the powerful Pomum Tinto! Pomum takes another round and a commanding 2-0 lead in the match.
Round 3. One day after opening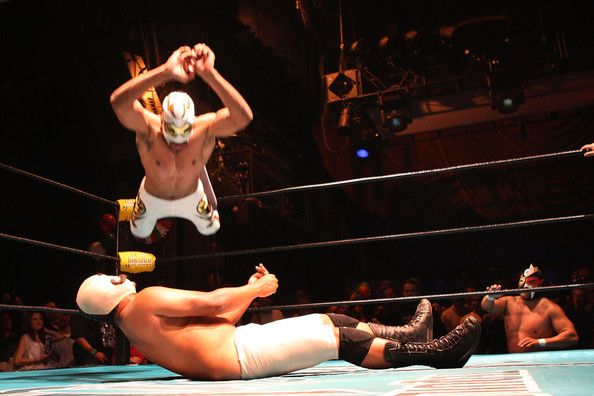 Las Cepas is continuing to mix it up and look for any advantage it can get. The nose is showing forest floor, black tea and dusty currants. The palate has evolved as well showing currants, black tea and light cracked pepper spiciness that is followed by a tart slightly peppery finish. The balanced attack has definitely rocked the Pomum Tinto back on its heels.
Pomum is fighting back with its own switched up Kung Fu attacking style and a wicked body slam! The nose is showing cherries, candle wax, dusty citrus and menthol spices. The palate features cherries, menthol spices and hints of dry cocoa that lead to a tart tannin spice finish.
This round was close with both Luchadors going all in with a change in style looking for any sign of weakness in their opponent's defense. After going to video replay Las Cepas takes the round by a narrow margin. The verdict for the round isn't popular with the fans, but it doesn't really matter as Pomum still takes the match 2-1.
Wrapup and overall observations.
This was a great matchup between two determined luchadors. Both showed great character and evolved nicely over the course of the match.
The Luchador from Pomum delivered the goods and dominated the match regardless of how the Rioja mixed up its fighting style. Javier Alfonso is making some of the best Spanish style wines coming out of Washington under his Pomum Cellars label and they also deliver a solid QPR.
I would definitely recommend seeking out both of these wines if you enjoy traditional Rioja style blends.